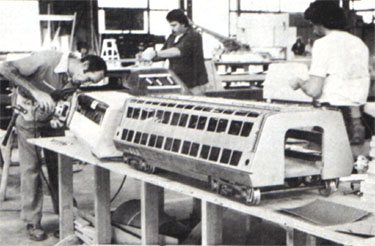 A pair of Supertrain Coach Cars are seen here in various stages of production during 1978.
NBC reportedly spent in the neighborhood of five-million dollars for the "Supertrain" sets and models. For only 10 one-hour episodes, that's half a million dollars per hour for the minatures and sets.
On location, behind the scenes crew members prep the show's star for one of her big scenes.
"It's what's on the inside that counts," or so they say. Well, here is what is found inside a Supertrain Coach Car. You're looking down on the car with the lid removed.
Super Guy Ned Parsons, pictured above with what looks like an early prototype model to his left, served as Production Desinger for the "Supertrain" series.
The failure of "Supertrain" is often hung around Fred Silverman's neck, but the series was in the works as he first came to power at NBC and many others were involved. Robert Mullholland, then NBC president is seen above inspecting the newtork's new train set. "All we want for Christmas is a Top 10 Show!" might be his wish as he looks at this Supertrain model in late 1978.